Toni Vandershule
Phone: 503-738-5591
The Seaside High School C.Y.B.O.R.G. Seagulls Robotics Team is a FIRST Robotics Team that competes yearly in the Northwest FIRST Robotics regional competitions. Our robotics team providesan opportunity for students to learn about design, electronics fabrication, safe tool use, public speaking, writing, robot construction, and sportsmanship in a safe and fun environment. All of these skills build upon the course content that students learn in their classes while helping them see the possibilities that skills in STEM (Science, Technology, Engineering, and Mathematics) could lead them to a satisfying and rewarding career.
FIRST Robotics is an amazing program that teaches students that Science Technology Engineering and Math (STEM) are not only rewarding, but fun. In the world we live in it has become more evident that the world needs STEM students and the FIRST robotics program is a way of obtaining that goal. Every year they hold numerous competitions that teach students the practical applications of STEM while having fun.
Please, check out their website at:
What's the difference between robotics and conventional sports?
The largest difference is in the way teams treat one another or what we call, gracious professionalism. In conventional sports you don't give the other teams your game plan, in robotics you want to. FIRST robotics isn't about winning, it's about learning.
Our team is free and open to all students in grades 9-12 at our school and throughout our region. Many of our former team members who have graduated are well on the path to successful careers that involve STEM skills.
To learn more about our team, please visit our website at: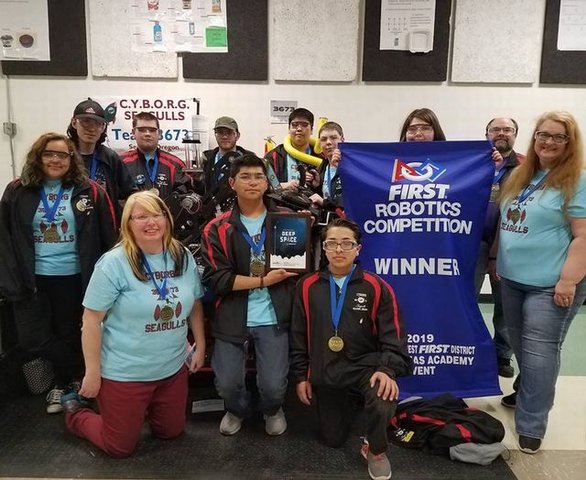 Seaside CYBORG Robotics Clackamas Academy 1st place